Authors Note:
Hey Everyone!!! This is Willzombie and I hope you enjoy it. This is not a story by the way, its just tells you about HViniB, the new yraniB.
The CreepyPasta: HviniB
HVinB is a type of stalker that speaks to you and crashes your game afterwards. If you attack her, she will teleport away and leave your world. A week later she will come back. She will keep coming until she crashes your game. After that, she will never come back. HViniB is a bug in the game, which every 1 in 1,000,000 will recive. You do not see her very often. She has two skins. 75% of the time she has the Alex skin with blue eyes, or she will have a yraniB skin with an Iron Sword.
That is everything I know about HViniB.
Here is an Encounter of Her/Him: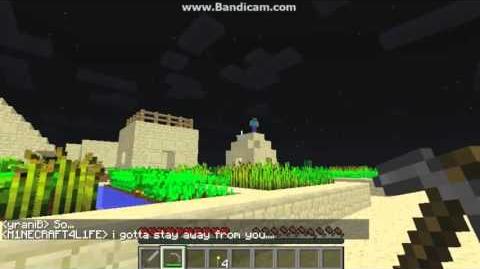 Ad blocker interference detected!
Wikia is a free-to-use site that makes money from advertising. We have a modified experience for viewers using ad blockers

Wikia is not accessible if you've made further modifications. Remove the custom ad blocker rule(s) and the page will load as expected.